Hair Gain has been developed to feed your follicles at source. Backed by trichologists, the range has been scientifically formulated to support healthy hair. All supplements and topicals are powered by our clinically-tested star ingredient AnaGain™ which is a phytonutrient derived from the small but mighty organic pea shoot.

Scientifically Formulated Hair Care To Stimulate Hair Growth
Hair loss is caused by an imbalance during the hair growth cycle. Problems occur when there are fewer growing follicles, known as anagen, combined with more degenerating follicles, known as telogen. This imbalance can happen at any time in your life. Stress, anxiety, ageing, nutritional deficiencies and medical issues are common causes. Hormonal fluctuations, especially after giving birth and during the perimenopause and menopause also cause havoc leading to hair loss. 
The range is powered by AnaGain™,  this impressive phytonutrient, derived from the organic pea shoot has been shown to stimulate specific signal molecules in the dermal papilla that are responsible for reactivating hair growth. 
Young pea shoots are vulnerable to disease, damage, herbivores and UV rays. So they contain powerful nutrients to protect them from these dangers. The same nutrients can do wonders for your hair. With just two capsules or gummies taken daily.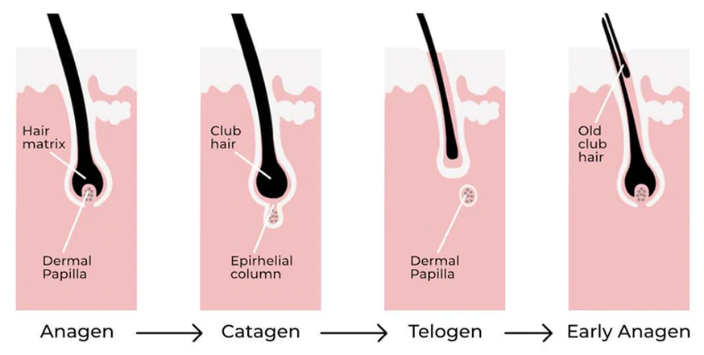 It also prolongs the hair growth cycle by improving the anagen-telogen coefficient (the proportion of active hair follicles to degenerating ones). This results in a greater number of hairs being grown and an improvement in the strength and quality of existing hairs, resulting in increased hair growth, reduced hair loss and breakage, and the maintenance of hair's density and thickness. 
The molecules that AnaGain™ helps to promote are called Noggin and Fibroblast growth factor-7 (FGF7 ) - both are signalling compounds that help to increase the number of hairs in the anagen phase and reduce the amount of telogen hair.  
FGF7 works by instructing hair cells to proliferate and initiate new growth cycles, which increases anagen hair. Noggin works more indirectly by inhibiting the activity of a certain protein that suppresses the hair growth cycle, thus shortening the telogen phase of hair. 
Hair Gain is scientifically proven to reduce hair loss. We get results, so rest assured that help is here for your hair. In an AnaGain clinical study, this powerful ingredient was shown to contribute to a 78% increase in hair growth. What is more, 86% of users noticed a significant improvement in their hair.
By harnessing the power of the organic pea shoot, Hair Gain strengthens thinning hair from the inside out. It also restores your hair's natural vitality and shine. So you can regrow your hair and restore your confidence with Hair Gain. 
How Long Do I Take The Supplements For?
Hair Gain works by feeding your follicles at a cellular level. As everyone is unique in the way they absorb nutrients we always recommend taking the supplements for a minimum of 3 months to ensure the super-nutrients have adequate time to build up in the body.  
Our Hair Vitamins & Ingredients
Not only do our hair supplements and topicals range harness the power of the organic pea shoot, the formulations also contain essential hair vitamins, minerals and ingredients that work to feed your follicles at source, encouraging healthy hair growth, reducing hair fall and nourishing your hair inside out.
AnaGain™ is a powerful phytonutrient derived from organic pea shoots and clinically tested to support healthy hair. Biotin and Zinc contribute to the maintenance of normal hair, skin and nails plus Vitamin C provides added support for collagen production.

AnaGain™, Biotin, Zinc & Vitamin C

hair

shine

follicle

vitality

hydration

AnaGain™ is a powerful phytonutrient and clinically tested hair booster derived from organic pea shoots while panthenol functions as a powerful conditioning agent to improve shine and provide long-lasting moisture. Natural Betaine reduces frizz and strengthens & protects the hair.

AnaGain™, Panthenol & Natural Betaine

hair

shine

follicle

vitality

hydration